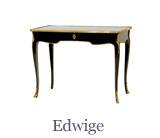 Are you tired of the same old furniture designs? Do you want something that's got just a bit more impact for your lounge, dining room or hall? The taillardat.fr website is a great place to browse if you'd like to lend a more elegant look to your home.
France is well-known for its artisanship and this proud heritage is definitely to the fore in the furniture produced by this French firm, based near Orléans. It makes everything from low tables and armchairs to sofas (http://www.taillardat.fr/collection-canapes-en.php). Its reproduction designs draw inspiration from the 18th and 19th centuries – the era of the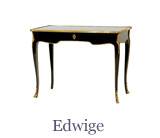 Empire armchair, the Louis console table (like the Edwige design shown below) and the Directory chest of drawers. The use of top quality woods and other materials, such as bronze and marble, are central to the company's philosophy. Equally important is the skill of the individuals who craft their designs. Using age-old techniques – gilding, cabinet making, patina laying, French polishing, leather casing and of course, joinery, their attention to detail and pride in their work is what helps make Taillardat's furniture so special.